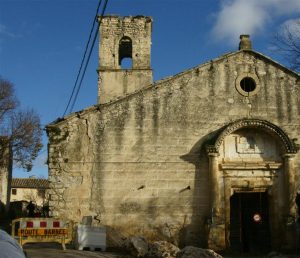 This easy loop starts from the town hall in Aigaliers and goes through some surprising countryside between the towns of Aigaliers and Belvezet.
On leaving Aigaliers, you get a fine view of the hamlet of Foussargues which you will also traverse later on. Then follows a walk up a narrow "combe" until reaching a high point and a right turn to head down to the Mas de l'Ancienne Église in Belvezet. While the normal meaning of "mas" in this area is "old – large – farmhouse", in this case, "mas" refers to the hamlet itself, no doubt begun as a group of buildings around the original farmhouse.
In this hamlet, there is indeed an old church which has been left to fall into ruins until recently (the pictures here date from 2008). By 2012, the structure was threatening to collapse. Then around 2015 the Belvezet town council obtained financial assistance and decided to renovate the old church for use as a town meeting room and cultural centre.

After the hamlet a track leads to the top of the St Médiers plateau. On the way up, the track follows a route called "chemin d'Uzès". This is probably an old mule track taking a fairly direct route from Belvezet to Uzès. (No modern road passes anywhere near this route.)
On a good day, on the plateau, there are views to the Pre-Alps in the Drôme department. Further along, still on the plateau, there is a group of florentine cypress trees, standing taller than the surrounding scrub forest. The presence of these trees in the rocky garrigues scrub is a surprise since this tree does not self-seed in this area. Furthermore, the tree usually needs to be grafted on a rootstock that can cope with the limestone soil. It seems like these trees have been purposely planted here, but there is no obvious reason to plant them in the surrounding scrub forest.
Then down from the plateau, past a few field and farmhouses before reaching the hamlet of St Mediers, then on to the hamlets of La Baume and Foussargues before returning to the departure point.
Trail Map