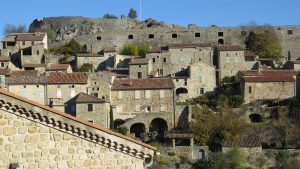 Banne, a village in the southern part of the Ardèche department is known principally for the Fort, sitting on a rocky platform overlooking the plains of Jales, and for the history of coal mining. This walk starts in Banne but visits 2 other curiosities that are less well known.
The plateau des Gras
The Gras (or Grads) plateau is an area of limestone tablelands at altitudes of around 250 m located between Les Vans and Aubenas. The terrain of these highlands consists alternately of:
rocky flatlands with very little topsoil and garrigue type vegetation or
blockfields strewn with boulders standing up to 3 m high in random and chaotic positions intermixed with scrub evergreen oak and box trees.