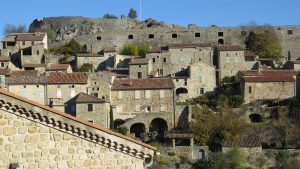 Banne, a village in the southern part of the Ardèche department is known principally for the Fort, sitting on a rocky platform overlooking the plains of Jales, and for the history of coal mining. This walk starts in Banne but visits 2 other curiosities that are less well known.
The plateau des Gras
The Gras (or Grads) plateau is an area of limestone tablelands at altitudes of around 250 m located between Les Vans and Aubenas. The terrain of these highlands consists alternately of:
rocky flatlands with very little topsoil and garrigue type vegetation or
blockfields strewn with boulders standing up to 3 m high in random and chaotic positions intermixed with scrub evergreen oak and box trees.
In the blockfields, the rocky outcrops are intermixed with pockets of topsoil used for subsistence farming in former times. Accordingly, while wandering through these blockfields, you see various remnants of gardens, orchards and stone enclosures.
On this walk, the trail meanders through an impressive blockfield, complete with overhanging boulders, some balanced precariously, before reaching and area of rocky limestone flatlands.
The Granzon valley
In south central France, there are many, many large and small limestone gorges, ravines, and valleys. Some are famous. Others, like the Granzon gorge, located between Banne and Les Vans, are little known. The Granzon gorge was, however, occupied by farmers and gardeners in former times and the most interesting aspect of this walk is to stumble across the remnants of a garden complete with substantial waterworks (canals, retention ponds, weirs etc) all abandoned and in ruins. Also noteworthy, the valley contains a number of sources and "fountains" emerging from the base of the cliffs and flowing even in the excessively dry summer of 2017.
The trail in this valley is not waymarked and several sections involve walking in the riverbed or crossing at non obvious places. It's best to plan this walk when the weather has been dry for a period.
Map