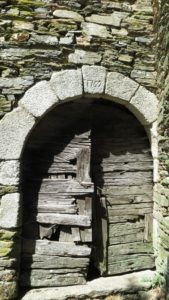 The Luech river starts at the foot of the "Signal du Ventalon" (a 1300 m summit in the Bougès range) and runs through a steeply banked upper valley past Vialas and on to Chamborigaud to eventually join the river Cèze. The upper reaches of the river are fairly wild and remote, formerly a land of subsistence agriculture and small scale mining. On this hot morning in August, we decide to walk the 5 or 6 kilometers starting from the Col de la Baraquette (alt 1000m) on the D35 ridge road (La Tavernole to Pont de Montvert). We started the drive in the industrial town of Alès. The road from Alès to the Tavernole intersection is in good shape and fairly interesting passing through old mining villages and near the Portes chateau. The D35, starting at la Tavernole, is an experience however. Too narrow for 2 good sized vehicles to cross, too winding to allow any speed and lots of "vistas" (otherwise known as steep cliffs much too close to the road's edge).

The walk is easy and picturesque. Starting from an unmarked parking area at the Baraquette pass, you walk downhill for a time until reaching the nearly abandonned village of Le Villaret. A sign in the village gives some idea of the history, possibly a roman agricultural settlement, definitely inhabited from ancien times, close to a now abandoned baryte mine. This mine seems to have been an open-pit set up started around 1920 and operated for a few years in the first half of the 20th century. See this note in french. In Le Villaret, notably, several houses in the village were getting new slate roofs when we passed and several others looked to be in excellent condition. Someone is taking good care of the village…
After Le Villaret, a gravel road runs to and then left along the upper Luech valley providing several good viewpoints. Later, you arrive in Massufret, a village noted for once having had enough families to support a school. We also noted the classic Cevennes behive – a hollowed-out tree trunk with a slate slab on top, a fresh water spring and some interesting houses. Along the trail around Massufret we also saw wild pear and plum trees, full of unripe fruit, and much evidence of running or seeping water despite the recent lack of rain. Reliable access to water is, of course, one of the main factors allowing for human settlement especially in this area of the Cevennes, prone to hot and excessively dry summers. No doubt Massufret is sited here due to availability of water.
This trail is well known and good information is available on several websites (one example here – in French).
Tags : Lozère department, Cévennes.
Maps