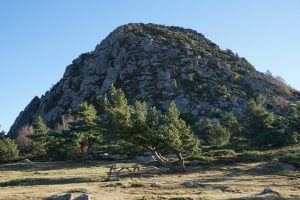 The high plateau in the Ardèche department, north of the upper Ardèche valley is full of examples of ancient volcanic activity. In this case, ancient is relative. These volcanoes are believed to have ceased activity relatively recently on the geological timescale – near the end of the last ice age about 10 to 12,000 years ago. Accordingly, natural erosion has had less time to erase the visible signs of volcanic activity. Interesting geological phenomena are visible in many locations and recognising the substantial interest of this area, UNESCO recently accorded the label of Geopark (see this link in french) to the regional park.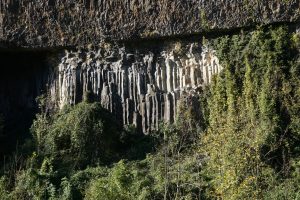 This hiking route, starting from Rieutord on the Loire river (still only a stream at this point) passes by several interesting spots. We visit 2 good lookout points on breached craters (i.e. a crater formed by a lava outflow that leaves one side of the rim lower than the others).
a spot on the high (north) rim of the Chambon crater and
the west rim the Suc de Bauzon crater.
We also visit a crater lake – Lake Ferrand – and the Pal "vestide". Both the lake and the vestide are maar craters. According to this article, a maar is a broad, low-relief volcanic crater caused by a phreatomagmatic eruption (an explosion which occurs when groundwater comes into contact with hot lava or magma). Such craters may be filled with water or volcanic sediments. Here in close proximity we have an example of each type. In particular in the vestide, we see a flat basin surrounded by the crater rim and containing, on the basin floor, 3 additional volcanic cones, presumably resulting from eruptions occurring long after the formation of the original crater.
Below are photos taken along the route.
Click for map