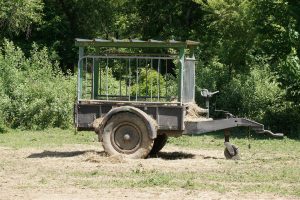 This hike loops around several hamlets in the municipality of Allègre-les-Fumades. Les Fumades was a popular spa in the 19th century, drawing visitors from as far away as the UK and Germany due to the reputation of it's mineral waters. Wartime (especially the 1914-1918 world war) and economic changes have taken their toll and, although still a spa, the town is not as popular as it once was. Apart from the spa, the town retains several points of historical and photographical interest.
A photographic tour
Auzon
The hamlet of Auzon sits on the north side of the Auzonnet. In a short stroll around the hamlet you can visit the quaint rue de la Chambrette, an interesting stone cross and various other curiosities inlcuding an old well.
La Bégude and Arlende
In the spring, the old mill and mill canal in La Begude are very picturesque. Arlende, a bit further up the trail has an old (but heavily restored) windmill.
Les Fumades
In Les Fumades, the Kronprinz's villa catches our attention. The house, looking more like it should be on an alpine lakeshore or on the French Riviera was apparently built for the crown prince of Germany in the years around 1912, in the expectation (or the hope) that the son of the German emperor would "take the waters" in Les Fumades. Thanks to the breakout of war in 1914, the Kronprinz never came…
On this circuit, in May, we saw very few orchids until coming upon a disused meadow in les Vieilles Fumades where around 50 wild orchids were flowering inlcuding the orchis purpurea.
A botanical tour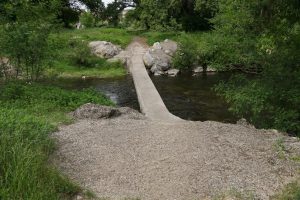 In the Gard, violent autumn rainstorms can produce sudden flash floods in riverbeds that are otherwise dry. The little stream of Séguissous which flows down from the base of the Mont Bouquet massif, is often dry, but when the water flows it spares little in its path. The pictures below show a dry riverbed and an area of significant erosion.
The area around the town of les Fumades is well irrigated by a number of small rivers and there are several alluvial plains. At the same time, some hamlets are built in areas of dry rocky limestone garrigue. As a result the variety of wild flowers, flowering shrubs and trees is remarkable. Below is a small sample.