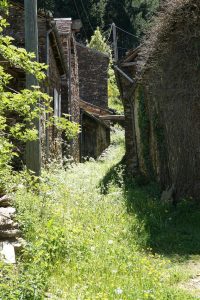 The Dourbie river starts on the Lingas, a mountain region just south of Mount Aigoual and flows generally east to join the Tarn in the town of Millau. Along the varied river course, the Dourbie flows through green mountain valleys and deep limestone canyons. This hike sticks to the mountain valley and starts in St-Jean-du-Bruel, runs up the right bank of the Dourbie, crossing near Tayrac and returning to St-Jean on the left bank. In the springtime, this is a very picturesque circuit in an even more picturesque region. This time we don't visit the canyons which are further downstream.
What to see
views over the valley, the Dourbie river and the town of St-Jean on starting the hike
an old lime kiln on the way to the first hamlet – la Brunelerie.
la Brunelerie – a picturesque and inhabited hamlet strung up on the mountain side
strange markings in lime over a door in the village
le Coulet
the rocky outcrop above the hamlet of Tayrac, offering a plunging view on the valley and the village
several interesting flowers and flowery meadows (in springtime eg. cerastium tomentosa, campanulas, a tiny polygala and lichens
footbridge over the Dourbie near Tayrac
abandonned houses and old fashioned shop signs in Tayrac
market square in Saint-Jean
On this particular day, we also came across a shedded snake skin pictured below.