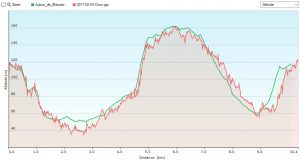 This site, built with WordPress, uses a couple plug-ins for mapping. They are Leaflet Map and WP-GPX-maps.
Leaflet Map
Leaflet map allows you to display a track on a map background. The plug-in allows for use of OSM maps via MapQuest. To use MapQuest you need to sign up for an API key from their website, and for modest use like this website, the API key should be free. However, I opted not to use Mapquest. This is France and France has the IGN (Institut National de l'Information Géographique et Forestière). This institute publishes folding paper maps at many scales and the 1:25000 scale maps are outstanding for hikers. It seems that every department in the country has a hiking trail plan and these trails are all marked on the IGN maps. One point of warning though. The paper versions are sometimes out of date.
In the past few years, the IGN has also moved to the Web and now provides a tiled web map service which is used in their Géoportail. They provide a variety of map backgrounds (including satellite images, different map styles) and overlays (e.g. river basin accentuation, zoning and survey boundaries, etc) and various Javascript APIs for use by developers. The Géoportail provides an excellent range of tools and is ever improving. Because hikers are so used to the IGN 1:25000 scale maps and their specific look and feel, I decided to use an IGN webmap for this website. The maps are rendered with the plug-in using the Leaflet JavaScript library and use the new IGN "Scan-Express" look and feel. Scan-Express is very similar to the hiking maps but has slightly less detail and seems less cluttered. To use the IGN webmap tiles, I had to obtain an API key on the IGN website.
An example
WP-GPX-maps
(Edit 2021-10-30) Once used extensively on this site, I have now removed this plugin in favour of using leaflet-maps and a new leaflet maps extension allowing for display of altitude profiles and more.